Here is a compilation of the top 20 free pathology podcasts available online in alphabetical order. Topics range from lab advancements to digital pathology and raising awareness for unique specialties and diversity in the field. 

Answers From the Lab is a Mayo Clinic-curated podcast sharing Mayo Clinic knowledge and advancements on the state of testing, science, and people who are making it happen behind the scenes. Each one is shorter than a half hour.
Host: Dr. Bobbi S. Pritt, a pathologist and clinical microbiologist at Mayo Clinic.
Frequency: Weekly
Run Dates: April 2020 – now

Beyond the Scope is a podcast by the Digital Pathology Association. It focuses on hot topics in digital pathology. In each episode, the co-hosts talk with key opinion leaders to discuss new research, technology, and workflows emerging in the field. Topics include artificial intelligence, computational pathology, whole slide imaging, in/ex-vivo microscopy, regulation, and commercialization.
Hosts: Dr. Giovanni Lujan from OSUWMC and Dr. David Tulman from Instapath
Frequency: 1-2 episodes a month
Run Dates: February 2020 – now

The College of American Pathologists' CAPcast includes interviews with leading pathologists on current issues impacting pathology and laboratory medicine and monthly advocacy recaps on current events in pathology. They are typically short episodes.
Host: The College of American Pathologists
Frequency: Weekly
Run Dates: September 2014 – now

This podcast focuses on forensic pathology, a medical subspecialty that focuses on determining the cause, manner, and mechanism of death. In each episode JET and Nic discuss a forensics-related topic. Their goals are to bust the field of forensic pathology myths and increase interest in forensic medicine as a career.
Hosts: Drs. Jordan Taylor (JET) and Nicole Croom (Nic), forensic pathology residents
Frequency: Bi-monthly
Run Dates: June 2019 – September 2022

Deeper Levels is a podcast on pathology, medicine, and science. Each episode features expert guests. Together they discuss relevant topics such as the importance of frequent cancer screening, scientific journalism, the impact of pathology on patient care, the current practice of lab medicine, and virtual education.
Host: Dr. Natalie Banet, academic pathologist in Rhode Island
Frequency: Weekly
Run Dates: March 2020 – April 2021

Dialogues on AI Digital Pathology is a podcast/webinar series where medical and industry experts share their views on the evolving trends of AI digital pathology and its role in finding effective treatments for Nonalcoholic Steatohepatitis (NASH).
Host: Dr. Nikolai Naoumov, Adviser for Clinical Research and Drug Development in Liver Diseases, Novartis Pharma AG
Frequency: Monthly
Run Dates: August 2020 – June 2021

The Digital Pathology Podcast discusses digital pathology, from the basic concepts to the newest developments, including image analysis and artificial intelligence. The host and her guests review scientific literature, discuss the current industry, and research digital pathology trends.
Host: Dr. Aleksandra Zuraw from Digital Pathology Place
Frequency: Bi-weekly
Run Dates: Sep 2019 – now

Digital Pathology Today is your podcast about the world of digital pathology. Each week a new guest expert comes to talk about the past, present, and future of digital pathology. These guests include industry leaders, academics, and top pathologists. This podcast aims to provide valuable insight and information on digital pathology and artificial intelligence. 
Host: Joseph Anderson, MD, a consultant to early-stage and mature companies in digital pathology and molecular diagnostics 
Frequency: Weekly
Run Dates: October 2020 – now

This podcast is where pathology meets computer science. Get the inside track on digital pathology. Hear from expert guests and benefit from in-depth discussions. The podcast covers reimbursement for digital pathology in the clinic, how to keep up with artificial intelligence, and tissue multiplexing.
Host: Dr. Aleksandra Zuraw
Frequency: Monthly
Run Dates: December 2020 – April 2022

The diversify in Path podcast explores how investing in diversity can lead to a high return on investment in pathology and lab medicine by learning from the knowledge and experiences of diverse voices within our field. Each episode features a new guest and their experiences in pathology. This podcast focuses on storytelling and narratives in diversity, equity, and inclusion.
Host: Dr. Michael Williams
Frequency: Weekly
Run Dates: August 2021- now

Inside the Lab, by the American Society for Clinical Pathology (ASCP), discusses anything and everything concerning labs and pathologists. The goal is to generate thought-provoking discussions about topics relevant to pathology and laboratory medicine. Episodes cover current issues like COVID-19, mentorship, burnout, retention of community practitioners, serology, patient care, and more to build awareness of the work of pathologists and laboratory professionals. You can get CME credits for listening.
Hosts: Kelly Swailes, ASCP Executive Editor; Lotte Mulder, ASCP Director of Leadership and Empowerment; and Dan A Milner, ASCP CEO.
Frequency: Weekly
Run Dates: August 2020 – now

ModPath Chat is the official podcast of Modern Pathology, the journal of the US and Canadian Academy of Pathology (USCAP). It features interviews with authors, opinion leaders, and experts on the latest science, technology, and developments in the field of pathology. 
Host: Dr. George J. Netto, the Editor-in-Chief of Modern Pathology and the Chair of Pathology at the University of Alabama in Birmingham
Frequency: Bi-weekly
Run Dates: September 2020 – now

Four pathologists started this podcast at the beginning of the COVID-19 pandemic to support pathology students, fellows, and residents with their training. They regularly have guest pathologists to share ideas, resources, and news and educate them about their specialty. The podcast also has regular quiz shows! 
Hosts: Dr. Mike Arnold from the Children's Hospital Colorado, Dr. Sara Jiang of Duke University, Dr. Kamran Mirza of Loyola University, and Dr. Christina Arnold of the University of Colorado.
Frequency: Weekly
Run Dates: April 2020 – now

The People of Pathology Podcast highlights people from different specialties and backgrounds in pathology. The purpose is to get to know these people, understand their motivations, hear their stories, and learn from their insights. Listen to learn about digital pathology, gross specimen handling, imaging, and new technologies. 
Host: Dennis Strenk, Pathologists' Assistant at Wisconsin Diagnostic Laboratories.
Frequency: Weekly
Run Dates: July 2020 – now

SAGE is a leading international publisher of journals, books, and electronic media for academic, educational, and professional markets. Most episodes include a host from SAGE and a guest who discusses a relevant journal article or book on topics on toxic pathology and veterinary science.
Hosts: SAGE
Frequency: Monthly
Run Dates: November 2013 – now

Sign Out Sessions hosts interviews and shares stories from the UC Davis faculty, fellows, guests, and others to inspire listeners to learn more about the people and fields within pathology and laboratory medicine.
Hosts: Dr. John Paul Graff and Dr. Peter Connor from the Department of Pathology and Laboratory Medicine at UC Davis.
Frequency: Monthly
Run Dates: December 2020 – December 2021

A 12-episode podcast series produced by The Pathologist. The purpose of this podcast is to give a virtual tour of the different roles in pathology from immunology and infectious diseases to forensics, biomedical science, and veterinary pathology. Each episode covers a new discipline, making it particularly interesting for someone interested in pursuing pathology as a career or a current practitioner who wants to learn more about what their colleagues do.
Hosts: Michael Schubert, Editor of The Pathologist magazine
Deputy Editor: Liv Gaskill
Frequency: Monthly
Run Dates: October 2021 – February 2022

The podcast series brings to life the spectrum of general pathology topics by delving into each through the lens of historical aspects of the disease, community impact of chronic illness, study or research threads, and topical areas of interest. Each disease has its own story to tell. This podcast is where the stories are told. This Pathological Life is produced by Clinpath Pathology in South Australia.
Hosts: Steve Davis and Dr. Travis Brown, resident general pathologist. 
Frequency: Bi-weekly
Run Dates: July 2020 – August 2021

Dr. Fred Silva discusses the history of different people and topics in renal and nephrology. His topics range from the Electron Microscope to the best books on pathology, the history of stains, what it is like to be a consultant, and famous contributors to the field of pathology.  
Host: Dr. Fred Silva of Arcana Laboratories
Frequency: Bi-weekly
Run Dates: April 2017 – January 2021

Yale Cancer Answers is a weekly radio show by Yale Cancer Center on WNPR – Connecticut Public Radio – providing the latest information on cancer screening, detection, treatment, and prevention. The show features a guest cancer specialist who will share the most recent advances in cancer therapy and respond to questions. Topics include breast cancer, lung cancer, melanoma, colorectal cancer, skin cancer, lymphoma, leukemia, and ovarian cancer. 
Host: Dr. Anees Changpar from Yale Cancer Center
Frequency: Weekly
Run Dates: September 2020 – now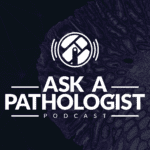 We started a podcast this year called Ask a Pathologist, where experienced pathologists come together to share advice and discuss the digital pathology industry.
Host: Lumea and the Digital Diagnostic Summit
Frequency: Monthly
Run Dates: April 2023 – now
Start the new year by committing to learn something new. Tuning into a new pathology podcast is an easy way to get that done, and some of them even offer CME credit. Share your favorite podcasts in the comments below.