An ancillary or molecular test is a medical test for a patient that is not a part of the original study design. There are a wide variety of ancillary tests used in cancer diagnostics. They can help determine how fast cancer is spreading, or confirm which tissue belongs to which patient in case of a specimen mixup. Lumea has partnered with two genetic test companies, Myriad and MDx Health, to reduce turnaround times and simplify the order process. Read more to find out how.
Get Ancillary Test Results up to 2x Faster with Lumea
"Myriad has shown that groups on the Lumea platform have reduced their turnaround time for molecular test results from an average of twenty-one days down to ten. That's pretty exciting," said James Thackeray, Lumea CCO.
How does Lumea technology enable ancillary test results in half the time?
At Lumea, we simplify and digitize the communication line. Typically, handwritten molecular test requests are sent straight to ancillary testing companies. Then, those companies contact the labs to ask for samples. With Lumea, clinicians and pathologists can order and approve tests with the click of a button on Lumea's revolutionary system, BxLink™. (BxLink integrates with, or replaces, a clinic's Electronic Medical Records (EMR) and lab's Laboratory Information System (LIS). Then, Lumea's system digitally sends requests to the locations holding the tissue first. This means the necessary samples arrive at the ancillary test company sooner.
Another benefit of digital ordering on BxLink is that the chain of custody and communication are all in the same system. This ensures that requests do not get lost. In addition, ancillary test companies do not have to spend time calling if they cannot interpret someone's handwriting. Once the test is complete, reports appear directly in the patient chart and are instantly available and accessible in a convenient location.
Simplify the Ancillary Test Order Process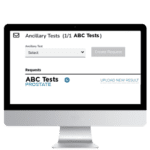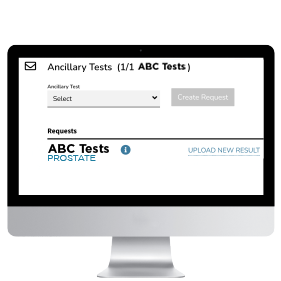 Lumea's platform enables conditional molecular or ancillary test ordering. This feature saves the physician time, ensures test preferences and requests do not fall through the cracks and speeds up the process.
So what is conditional ordering?
Lumea's conditional ordering is a feature of BxLink. Physicians can set up auto-requests for tests if a case diagnosis meets certain criteria. For example, if a physician always wants a Confirm MDx test on benign cases, they can set that up in BxLink. When a pathologist makes a benign diagnosis, the molecular test request will pop up on their dashboard without the physician having to do anything. Assistants can also manually request any tests at the time of biopsy. 
The pathologist can always choose whether or not to approve requests based on the case results. As soon as a pathologist approves a request, it appears on the laboratory BxLink dashboard. Someone can immediately begin preparing to send all necessary items to the molecular test company. 
The combined power of Lumea with molecular testing makes the process of requesting and receiving results faster, simpler, and better. Visit our website to request a free demo to see the benefits firsthand.