Lumea is exhibiting at the 2022 Surgical Pathology Conference (SurgPath), Oct 24-28, in Hawaii. We are also sponsoring breakfast on October 24. 
What is the Hawaii Surgpath Conference?
The Hawaii Surgpath Conference is a yearly gathering hosted by Pathology Education Partners. The purpose of this Conference is to provide updates for current professionals regarding surgical pathology.
Attendees at the Hawaii Surgpath Conference will enjoy presentations and workshops from surgical pathology faculty from renowned groups and universities. It will take place at the Hyatt Regency Maui Resort and Spa in Lahaina, Hawaii. See the full schedule below.
Pathology Education Partners offers ten yearly CME Accredited seminars and workshops for professionals. They aim to provide unique learning experiences. Their Hawaii conferences are planned and implemented by the accreditation requirements and policies of the Accreditation Council for Continuing Medical Education (ACCME) through the joint partnership of Medical Education Resources and Pathology Education Partners. The Hawaii Surgpath Conference offers 25 CME credits or 25 SAM credits.
Why visit Lumea's booth?
Lumea exhibiting at the 2022 Hawaii Surgpath Conference will provide attendees with the chance to see how we can improve the pathology workflow with custom, integrated solutions that start and end with the patient. Our newest digital pathology solution is Lumea Plus: Pathology LIS Upgrade System. It offers many benefits, from maximizing lab and pathologist efficiencies to improving processes and quality. Above all, it provides a seamless and easy transition from traditional to digital pathology.
"I can't wait for the Hawaii Pathology Conference! Not only is it such an informative time with some of the leading experts in the field of pathology, but it is a great time to network with others in the industry," said Chelsea Sowards, Lumea Vice President of Sales.
Pathology Visions Conference Schedule
The following renowned faculty will present the 2022 Hawaii Surgpath workshops and sessions:
Dr. Jonathan I. Epstein is a Professor of Pathology, Urology, and Oncology and the Director of Surgical Pathology at the Johns Hopkins Medical Institution. He has written 762 peer-reviewed articles and written and co-written seven books.
Dr. Cristina Magi-Galluzzi is the Director of Genitourinary Pathology at the Cleveland Clinic and a pathology professor at the Cleveland Clinic Lerner College of Medicine. She is also the President of the International Society of Urological Pathology (ISUP). Dr. Magi-Galluzzi is the author of more than 160 publications.
Dr. Konstantinos Linos is a dermatopathologist and the Director of Bone and Soft Tissue Pathology at Dartmouth-Hitchcock. He currently serves as the course director for the Hawaii Pathology Conference. Dr. Linos also helped write Diagnostic Pathology: Vascular.
Dr. Lester D.R. Thompson is the social media editor of the Head and Neck Pathology journal and serves on many peer-reviewed scientific journal editorial boards. On top of editing, he has written more than 400 papers and nine books. 
Dr. Savitri Krishnamurthy teaches pathology and laboratory medicine at The University of Texas MD Anderson Cancer Center. Dr. Krishnamurthy was the primary investigator in several clinical trials on digital imaging, molecular testing, and optical imaging. She has more than 250 publications.
Jason Chang is a board-certified pathologist at Memorial Sloan Kettering Cancer Center and is part of their Thoracic Disease Management Team. As a molecular genetic pathologist, his work primarily involves the diagnosis of genetic abnormalities in cancer specimens.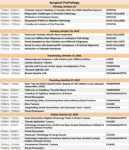 Additional information about Lumea
Matthew Leavitt, MD, was working for a rural hospital in Utah when he began testing out digital pathology. He tried several solutions available on the market but was disappointed with the results. This led him to found Lumea, a digital pathology company that was built by pathologists for pathologists. He formed a diverse team of doctors, lab professionals, engineers, and software developers to realize his dream. Years later, our solutions are helping improve the workflow, lifestyle, and efficiency of labs, pathologists, and clinics worldwide.
If you are going to the 2022 Hawaii Surgpath Conference, stop by Lumea's exhibit to see our surgical pathology technology firsthand. If you miss us, you can schedule a free demo on our website to see our digital pathology solutions firsthand.