A microscope is the principal tool of a pathologist's trade. As we progress through the digital era, the potential for new, innovative devices to replace that tool has increased. Digital pathology software and platforms have emerged, offering benefits for pathologists from better ergonomics to streamlined workflows. Are you someone considering digital pathology? If so, you probably want to know what you need to obtain. Here are the five technology you will need to practice digital pathology. 
First, you will need a whole slide image scanner. 
Many companies specialize in a variety of whole slide image scanners. Some are small-scale and can scan 1-5 slides at a time. The largest can scan 1,000 slides at a time on a continuous circuit. A recent blog on our website goes over the top 10 scanning companies and the types of scanners they sell to help you choose the right fit for the needs of your practice. 
Second, you need viewing software. 
A viewing software is where you can access and view the digitized specimen slides. Some scanning companies suggest or sell specific digital viewers that work with their scanners. As you choose a viewing software, ensure its capability to integrate with your scanner. Many viewers, like Lumea's digital pathology platform BxLink, are flexible and compatible with a wide range of scanners. 
Third, you need case management software. 
A case management system could be the Lab Information System (LIS) or separate software that integrates with the LIS to connect the pathologist with the histotechnicians. In Lumea's case, BxLink is an all-in-one case management software, viewing software, and LIS. You only need to worry about purchasing one system for all your technology needs when you practice digital pathology.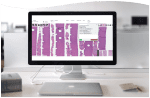 Fourth, a computer monitor. 
Computer monitors used for digital pathology need to meet standards and specifications. Read a recent post on our blog about the top 10 things to look for when choosing a computer monitor for digital pathology to learn more. You will likely want multiple monitors if you use a separate slide viewer and case management system. Since Lumea's BxLink combines everything you need into one software, you only need one handheld tablet or computer monitor. 
Fifth, consider using artificial intelligence. 
Artificial intelligence tools can assist pathologists with more mundane tasks and can do quality control. Some slide viewers integrate with artificial intelligence. As digital pathology continues to adapt and progress, AI will become ever more essential. Read our blog post about the top 10 artificial intelligence companies to learn more. 
Now that you know the five technology you need to practice digital pathology, you are one step closer to making the switch. If you want to learn more about the best digital pathology platform on the market today, request a free demo today of Lumea's BxLink built for pathologists, labs, and clinics.