The 2023 Digital Diagnostic Summit begins Sunday, September 17, at the St Regis Resort in Park City, Utah! This exclusive conference focuses on "elevating patient care with the power of digital pathology." You won't want to miss hearing about breaking digital boundaries from the Keynote speaker, Robert "Cujo" Teschner. Nor will you want to miss out on the fireside panel hosted by Digital Pathology Today host Joseph Anderson and the slew of other workshops and presentations from industry leaders and digital pathology pioneers. We compiled a list of the most frequently asked questions about the Summit and downloadable PDFs of the 2023 schedule and map. If you have any additional questions not covered in this FAQ, email the event coordinator at ddxsummit@lumeadigital.com.
Digital Diagnostic Summit FAQ 
How do I get to St Regis via Uber/Lyft or for daytime parking?
Use this address to St Regis to take you to the lower Deer Valley parking lot:
2300 Deer Valley Dr E, Park City, UT 84060
If you are parking a vehicle, park anywhere in the main lot. Then walk across the street to the base of St Regis. 
If you are in an Uber/Lyft have them drop you off right at the St Regis base.
Enter the lower door and walk to the second floor. There are two funiculars (tram) that run every 5 minutes. The funicular will take you to the second floor of the hotel. Enter the hotel and go to the registration desk on the first floor. 
When the Summit is over please arrange to have your Uber/Lyft pick you up at that same location – the base of the hotel to return to the airport. They will not be able to enter from the top of the resort. 
You can also use the St. Regis valet for $50/day.
How do I get to St Regis if I am driving my own car and intend to park at the resort overnight?
Via Upper Resort (registered hotel guests only): 
THIS TAKES GUEST DIRECTLY TO THE MAIN LOBBY –please do NOT use GPS/google maps/mapquest – you will be routed to lower resort using those methods.
If you go through a gate without speaking to someone, you have gone the wrong way.
~ From SLC and I-80 East ~
Take Exit #146, Heber/Vernal – US-40 East.
Merge onto Heber City – US-40 East.
Take Exit #8 – Mayflower Exit.
Turn right at the exit.
Turn right again – heading towards Deer Crest.
Continue straight until you reach the Deer Crest Gatehouse. 
This is a gated community, private road.  Please state your name at the gatehouse. The gatehouse will have a list of all registered and incoming guests.  During non-business hours there is a call button.
Once through the gate, continue to go straight, and then at the stop sign, turn left to Deer Crest Estates Drive.
The hotel will be on the right…proceed to the circular drive.
You can also use the valet at the lower entrance, and take the funicular to the lobby.
The cost for valet/overnight parking is $50 a  night.
What is the registration cancellation policy?
All hotel rooms, meals, and excursions have been pre-paid. If for any reason you need to cancel, please contact us directly ASAP.  You may transfer your registration to another user. If you do not have a transfer in place, we will give you a refund if we can fill your spot. 
What if I cannot attend the in-person conference, will there be an option to attend virtually? 
Recordings of the conference from most sessions will be available 2-3 weeks after the event. Please let us know if you would like to receive a recording. This option is only available for those registered for the Summit.
Who can attend the VIP Network Event on Thursday night?
Only those who have a VIP badge can attend the VIP Network Event. However, St Regis invites everyone to attend a champagne sabering hosted by St Regis at 6:30 pm Sunday evening. 
Do I have to book a room at St Regis?
No. You can stay in any nearby hotel you choose. However, all events (aside from excursions) will occur at the St Regis Resort. Summit attendees get an exclusive 50-70% discount rate for the St Regis Hotel with registration. This rate expires on August 10, 2023, so book now to take advantage of the discount!
What is my excursion and how do I prepare? 
You will receive an email a week before the event with your excursion details. Contact the event coordinator Erin Stanley at ddxsummit@lumeadigital.com if you have any questions about your excursion.
What is the dress code?
The dress code for all general sessions is business casual. All dinners and fireside panels are casual dress. 
When is check-in?
You can either check in at the hotel lobby between 4-6 pm on Sunday, September 17, or Monday morning outside the Astor Ballroom at 7:30 am during breakfast.
What if I have special dietary needs?
Meals will be served buffet style and there will be a variety of options for vegetarians, vegans, lactose intolerant, and gluten free. If you have dietary restrictions beyond those mentioned, reach out to ddxsummit@lumeadigital.com.
2023 Digital Diagnostic Summit Schedule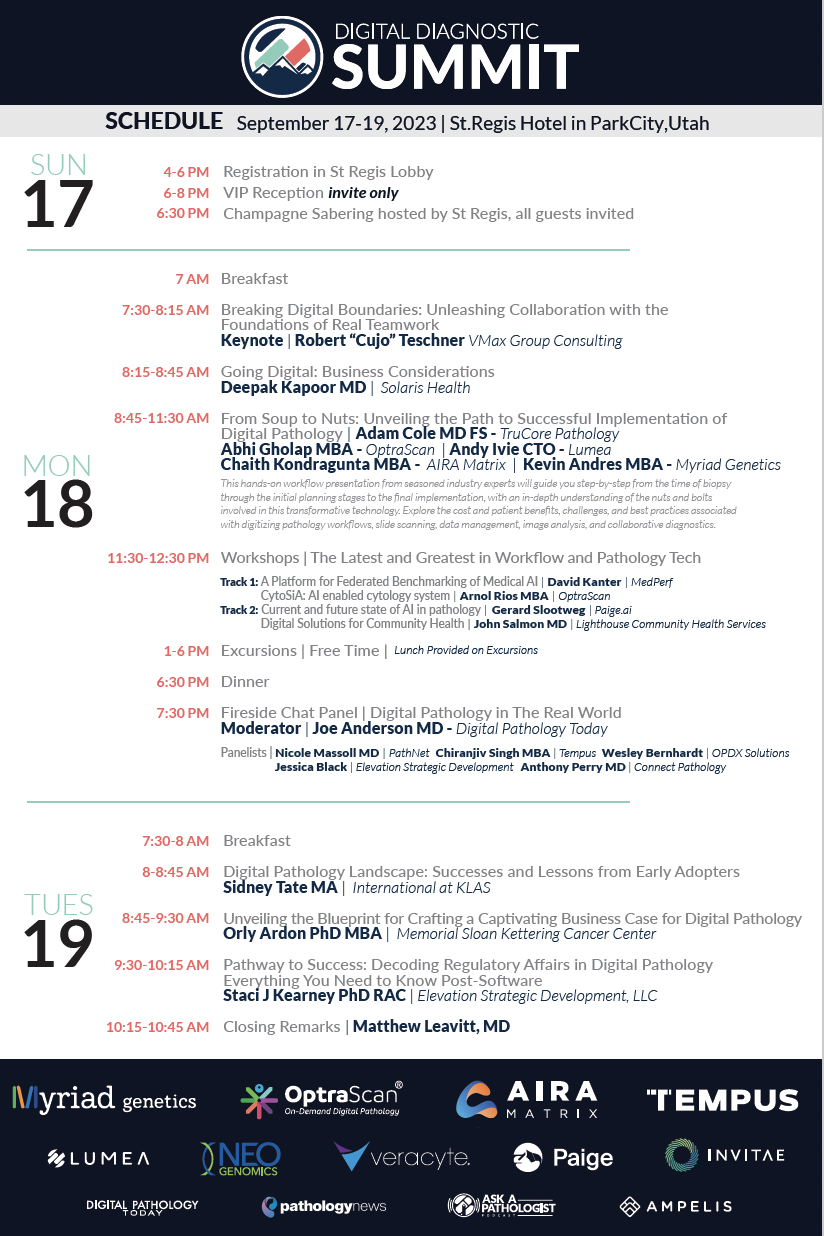 2023 Digital Diagnostic Summit Map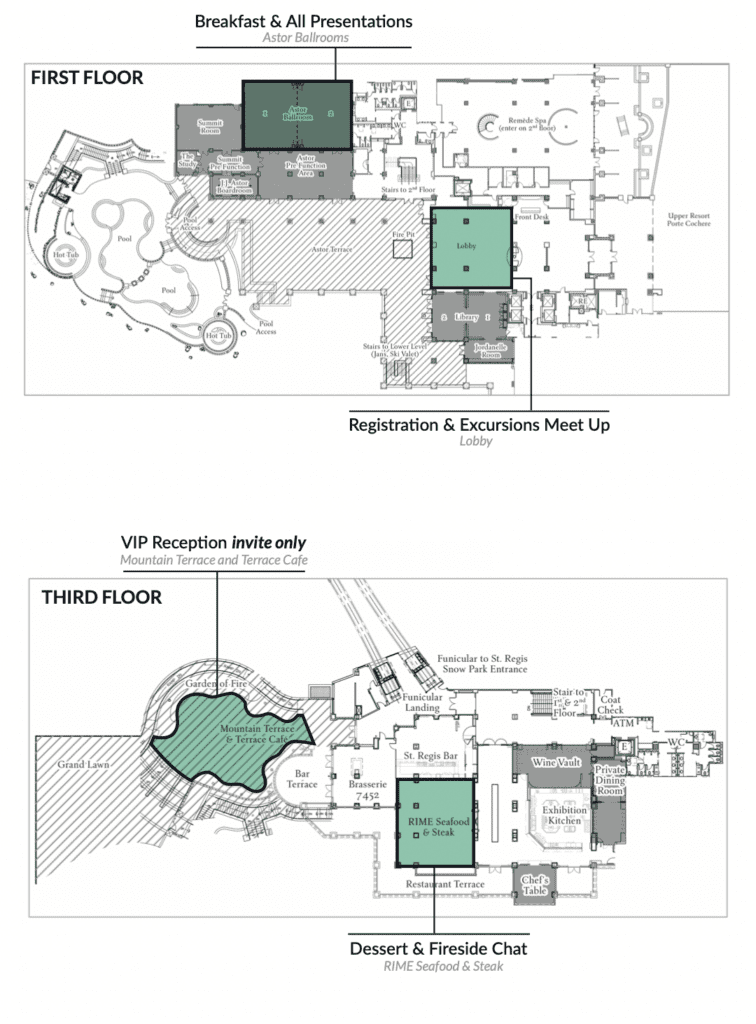 If you have any further questions email the event coordinator at ddxsummit@lumeadigital.com. 
Not registered yet? Space is limited, so register today before all the spots fill up!