When you hear the term digital pathology technology, there's a good chance that whole slide image scanners, image viewers, and LIS integrations come to mind. Most digital solutions start when the lab scans a slide. It's an add-on process that increases cost and time. However, to optimize the experience (and to offset the increased costs of going digital), starting the process at the point of tissue acquisition is key. 
What has been lacking is a reimagining of the whole digital pathology process from the beginning. It's more than just adding on a scanner. To truly realize the vision of digital pathology, there is a need to create new workflows that enhance the digital experience from the procedure through the lab to the pathologist. This is exactly what Lumea is doing. Our technology creates time, cost, and efficiency savings from the procedure room to diagnosis which actually makes digitization viable and valuable.
Reinvented tissue handling device in the procedure room: BxBoards

®
Goodbye bottles for small biopsies, hello BxBoards. Our engineers reinvented the wheel for small biopsy handling. Medical personnel place tissue samples on special hydrophilic formalin-soaked sponges within the BxBoards. The boards preserve anatomic orientation, allowing for more specific localization of disease. This enables better quantification of disease within an organ, helping determine targeted therapies. BxBoards are also healthier for MAs, physicians, and lab personnel because they reduce the amount of formaldehyde exposure. 
Core BxBoards for core biopsies
Surgery centers can use a 6-lane BxBoard, ideal for small needle-core biopsies like prostate. Core biopsies lay in site-specific lanes, saving time by reducing the number of containers and labels. For example, a typical 12-core prostate biopsy would only require two 6-lane BxBoards instead of 12 jars/labels. Most importantly, initial results show these boards can increase tissue yield (by keeping the tissue in a single plane), reduce fragmentation, and maintain anatomic orientation.
Lumea's research and development team is currently validating a 4-core BxBoard optimized for breast core biopsies.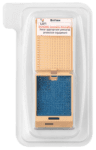 BxView

®

(in validation) for all small biopsies
The BxView is a special cassette for small specimens. Each cassette contains a formalin-soaked sponge and rests in a plastic, resealable container. Medical staff place small biopsies in the cassette and close the outer plastic lid before sending it to the lab (where the same cassette can be used for processing). The BxView is transparent, enabling Lumea's proprietary camera to automatically count and measure each tissue piece.
The research and development team is continually working on creating BxBoards for even more tissue types, performing rigorous validations to ensure excellent tissue preservation and histology.
Reinvented tissue handling devices in the lab: BxChips

®
The biopsy handling products for the surgery center go hand-in-hand with the ones Lumea created for the pathology lab. In addition, they work with Lumea's AI grossing application (more on that later) to automatically gross biopsies in seconds.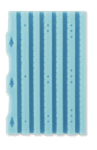 BxChip for needle-core biopsies
BxChips pair perfectly with BxBoards and are designed to maintain tissue integrity throughout the lab processes. For example, if a histology lab receives two 6-row BxBoards from a 12-site prostate case, they can transfer tissue into two 6-lane BxChips. The BxChip is a proprietary tissue-like matrix that holds tissue in place throughout processing, embedding, and microtomy. The benefits of improved tissue yield and retention of anatomic orientation are maintained while significantly reducing slide and block volume and personnel time. Imagine safely and evenly embedding six prostate cores in just a few seconds!
In addition, our machine learning and AI algorithms automatically recognize, count, and measure all tissue fragments. Lumea's digital pathology software keeps track of tissue core location, so pathologists don't have to as they diagnose. In fact, they can diagnose, localize, and quantify malignancies with simple annotations, feeding key data directly into the diagnostic report. The BxChips also allow the pathologist to use Lumea's MultiViewTM simultaneous viewing/tracking of the same tissue on different levels and/or different stains in real-time.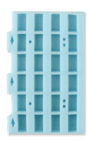 Small Tissue BxChips (in development)
Lumea is developing 8-, 16-, and 24-well BxChips that hold small biopsies for processing. These tissue arrays allow for the safe handling of multiple specimens from the same patient throughout processing, embedding, and microtomy. Chips maintain the orientation and discrete location of each tissue sample. All tissue pieces are held in a single plane, allowing for the embedding of multiple specimens from the same patient into a single mold in seconds. Any digitized slides are mapped within Lumea's digital pathology viewer, ensuring each piece is accounted for and localized. The BxChips also allow the pathologist to use Lumea's MultiViewTM simultaneous viewing/tracking of the same tissue on different levels and/or different stains in real-time.
Other BxChips (in development)
Research and development efforts are also underway for BxChips for skin specimens and other tissue types. These devices will improve lab workflow, efficiency, and quality while allowing for exciting viewing and sign-out applications that are impossible without the BxChip and Whole Slide Imaging.
Other helpful tissue-handling devices for labs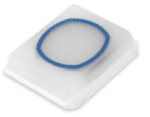 CytoRing

®
The CytoRing is also made from BxChip material and solves the problem of scanners having difficulty focusing on low-cellularity cytology specimens. By providing a reference point at the same level as the specimen sample, scanners can use the ring as the focusing reference and improve the quality of the scanned image. 
Proprietary auto-grossing cameras for the lab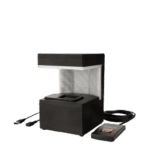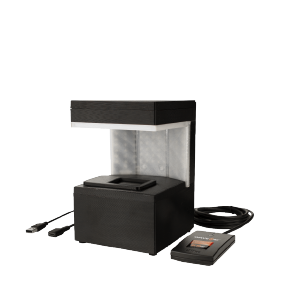 This camera works in conjunction with Lumea's tissue transportation devices in the surgery center or the lab. The camera uses machine learning to localize, count, and measure each tissue fragment and provide a gross description that can auto-populate into a template within the LIS. Research and Development at Lumea are currently creating a version for larger specimens.
How do these technologies help the pathologist?
These digital pathology technologies for the surgery center and lab improve quality while saving time, money, and resources. So what about the pathologist? And why does this technology matter downstream?
"Our efficiencies have helped a pathologist complete a digital sign-out up to 30-50% faster than normal," said James Thackeray, Lumea Chief Commercial Officer.
Why bother digitizing a slide if it only serves as a substitute for the tried and true glass slide? The BxChips, CytoRings, BxTags, and other devices in development at Lumea modify existing workflows to make digital pathology cost-effective. Lumea's slide viewer and diagnostic digital pathology sign-out work seamlessly with our devices to improve the pathologist's experience and even provide information to clinicians that were not previously possible.
Pathologists can design their dashboards, help triage their workday, speed up their sign-out, and soon have custom report verbiage automatically appear on reports based on pathologists' and clinicians' preferences. There is even an automated QA system in development that will assess the level of concordance with minimal pathologist input. Finally, working in tandem with key molecular testing companies, Lumea has also created a system to ensure that all cases meeting each clinician's inclusion criteria get appropriate molecular testing.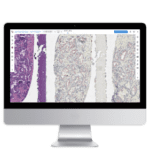 "We try to improve the workflow beginning with the clinic," explained Mark Evans, Lumea Chief Scientific Officer. "We've not only developed digital technologies but also better tissue handling devices, better ways of processing the tissue, an improved and reimagined workflow from bedside all the way through the diagnosis that actually creates a return on investment."
Lumea's goal is to make digital pathology affordable AND practical for the everyday pathologist. Our unique solutions enable pathologists to start small and add later, from lab enhancements to a slide viewer to the diagnosis.
Sign up for our newsletter for updates on our validations and newest technology. For more information or data on any of our products, don't hesitate to reach out.